Return to News
Cymoedd face Sir Gar in crunch college clash at Sardis
Mon 23rd October
Coleg y Cymoedd will have their 100% record in the WRU Schools and Colleges League put to the ultimate test on Tuesday 24th October as they face reigning champions Coleg Sir Gar.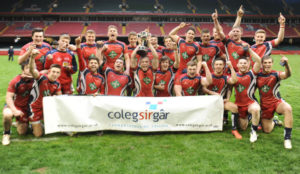 Champions – Coleg Sir Gar
The crunch match will be played on the 3G surface at Sardis Road kicking off at 7pm.
Cymoedd have hit an excellent run of form so far during the current campaign with a record of five wins out of five, not only winning but winning in style in high scoring matches.
As Coleg y Cymoedd claim pole position in the Schools and Colleges table as the only team maintaining a 100% record, reigning champions Sir Gar lie five points adrift in fourth position with four wins out of five.
A great game of rugby featuring some of the best up and coming talent in Welsh rugby is in prospect.