Return to News
Ponty RFC strengthens links with USW at Treforest Sports Park
Thu 4th January
Pontypridd RFC is consolidating the already strong links forged with the University of South Wales by taking training sessions at the college Sports Park on the Treforest Estate.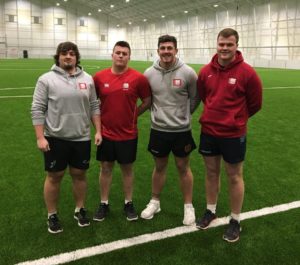 Squad sessions, such as the one on Thursday evening 4th January, can now be held at the £3.7 million state of the art complex.
The Sports Park gives students an opportunity to develop their skills using top class facilities, including six badminton courts, eleven pitches including five floodlit pitches, and artificial training pitch, a 3G floodlit football pitch and a notational analysis suite.
Pontypridd RFC team manager Dan Godfrey commented: "This offers a fantastic opportunity for our squad to use some top class training facilities and to strengthen our relationship with USW.
"The player pathway offered through the Pontypridd & Valleys Rugby Initiative is proving its worth, with University players linking up successfully with the club."
USW players such as Jamie Hill, Joe Popple, Alun Lawrence and Sion Edwards have already made their mark with Pontypridd this season, with others such as Tom Stacey, Will Haly, Gareth Jones and Ross Barnes (all pictured above) also now linking up with the senior club squad.