Return to News
WRU Chairman proposes board modernisation
Sun 15th October
Gareth Davies outlined proposals to member clubs at the Welsh Rugby Union's Annual General Meeting (AGM) on Sunday 15th October to significantly streamline and modernise the governance structure of Welsh rugby.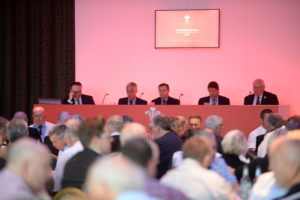 The chairman, who was officially re-appointed as a national director for a further three year term at the AGM, has called for the WRU board to be reduced in number and for the current nine districts to be more geographically aligned.
Davies presented a blueprint for the future which also advocates the creation of a separate council to take responsibility for the grass roots club game.
The current WRU board is made of 20 members – chief executive Martyn Phillips, three national directors (Gareth Davies, Anthony Buchanan and Martin Davies), two independent non-executives (Tim Griffin and Aileen Richards) and 14 district representatives.
"The current Board is sometimes unwieldy simply by virtue of its size," said Davies.
"We have a balance to strike between being truly representative of the national game and all its constituent parts, being agile and having the right blend of skills and attributes to make effective and dynamic decisions and to govern.
"It's not just at the WRU that we have identified a need to change and modernise, we would be following suit with other major sports governing bodies who are instigating important change, like the RFU, British Cycling, the ECB and the Football Association.
"In general, sporting bodies are now working towards having boards of between eight and 12 members and underpinning the mechanism for change is a drive to increase diversity amongst the personnel on the board."
Davies' proposal is for a reduced board of between eight  and 12 members: which could include the chairman, chief executive, five directors from the community clubs, two independent non-elected directors and one representative from the professional regional game.
This proposal will be put to a future vote of the member clubs of the WRU at a special general meeting to be determined later this season, before it can be implemented.
"In March 2016, the Board committed to and signed-up to the Sport Wales Governance and Leadership Framework for Wales," added Davies.
"We established a Governance Working Group which meets and reports regularly to the Board on governance matters, and considers how it can maintain and improve good governance and leadership within the Group.
"This includes recommending appropriate changes to the Company's governance structures, to ensure that the Group's commitment to best practice in corporate governance is met.
"We have gone some way towards streamlining the decision-making process at Board level already, with four sub-Boards looking at different elements of the business, but these new proposals are the next step for us.
"We have examined the diversity and skill sets available within the Board itself and it is imperative that we continue to be proactive in this area.
"Both the Board and the Executive Board remain committed to the continuing development of governance structures, in order to meet the evolving needs of the game and to acknowledge the value of the principles of good governance."