Return to News
Supporter's Blog – Bert James
Sun 3rd January
As we all know, Covid-19 has been an absolute nightmare, here in the US as in Wales. Rules all over the place, lock down, lock up, can't go here, can't go there and at this point, we are all going stir crazy. The Wales squad was also sub-par in the recent Autumn Internationals – that didn't help our emotional state!
So, what do we do without Pontypridd RFC in our lives?  Firstly, we suffer. A lot. I miss seeing the boys show their skills, the voices in the Shed, the wins, and sadly, even the losses. At this point, I would take anything.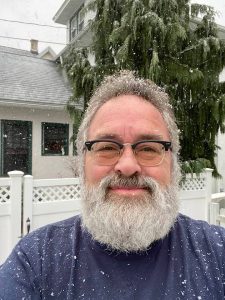 What did we do in the meantime? Well, I was able to watch the Autumn Internationals, and was very disappointed that one of our boys was excluded from the squad, especially as there were so many misfires from his position – a lawsuit should have been filed against the ammunition manufacturer.  Why Kristian Dacey was left off the squad is beyond me. Am I bias?  Absolutely. But legendary Ponty  captain Nathan Strong hit the nail on the head many years ago – Kristian should be with the Wales squad.
Hope I don't get crucified for this one…I also watched the Blues. I wanted to watch some rugby, any rugby, and the offering was on the table. I typically wouldn't watch any of the regional games yet I felt I had a duty to the former Ponty boys who have been going through hell like the rest of us. The first game I watched, I looked at the XV and the bench and said, "Damn!  We have quite a few boys in that squad."  Bottom line…I just had to support them. And I've been watching and supporting them ever since.  Of course, I still have a personal tie to some of them, nine years strong now, so I feel the need to back them no matter what jersey they wear.
I honestly feel very concerned right now for the lower leagues. The disappointment expressed by some of the players there on facebook is heartbreaking, with the cancellation of their seasons.
In closing, how am I getting through it all?  Supporting the Ohio State Buckeyes USA University gridiron team and having a great battle with another stateside Ponty supporter, Neil Proudman, who is trying to get his Texas A&M Aggies into the four-team playoff for the Championship.
Most importantly, I wish good health and happiness to all the Pontypridd players and their families, all the supporters, the staff, anyone fond of the black and white and the beautiful bridge with the holes in it.
Happy New Year to you all from across the pond – Blwyddyn Newydd Dda!
Bert James
**If you wish to see your Supporters' Blog published, please send your contribution with an image to: media@ponty.net