Return to News
Running for Ponty
Sun 24th November
As part of a major fundraising drive by Pontypridd RFC over the past year, one supporter who went the extra mile – thirteen miles to be exact – in his efforts to raise much needed cash, was local police officer Warren Williams. Having previously spent 24 years in the army, Warren put his fitness levels to the test for a cause close to his heart.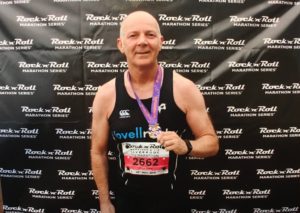 Warren's commitment to running the Liverpool Rock and Roll Half Marathon back in May (pictured above) raised £320 which is being donated towards the installation of a CCTV system at the Sardis Road stadium. The cheque presentation was made by Warren Williams and his Chief Inspector Damien McKeon at the Pontypridd v Merthyr game on Friday evening 22nd November.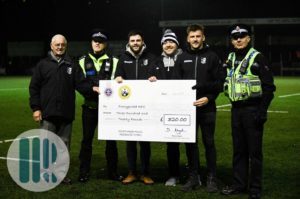 Having been a dedicated Ponty supporter since the late 1980's, and currently serving as a Community Support Officer with South Wales Police within the Rhondda ward, which covers Maesycoed, Pwllgwaun and Hopkinstown, Warren could see the value in making a contribution to the club which would enhance its safety. He has also been instrumental in helping set up the Neighbourhood Watch Scheme for the Maesycoed and Pwllgwaun communities and raised another £450 for that cause by running the Lake Fyrnwy Dam Buster Half Marathon in October 2018.
Speaking of his money making efforts for the club Warren said: "I have been a Ponty supporter since 1987 and when the call went out to raise funds I was keen to make a contribution towards the excellent facilities at Sardis Road and to help the community.
"The club has been having lots of issues with low level crime and anti-social behaviour, also some damage to the infrastructure and I wanted to show my commitment by raising  cash and helping make the ground a better and a safer place, also to bring the local community together. I am proud to represent this ward and to improve its safety by helping to prevent and deter crime."
Pontypridd RFC is delighted to accept the donation from Warren Williams which will boost safety levels at the stadium. Jack Bayliss expressed his gratitude on behalf of the Ponty Rugby Board of Diectors, whilst also highlighting the on-going problems faced by the club.
"We owe a big debt of thanks to Warren for his sterling efforts in raising money on our behalf" said Bayliss. "We have suffered a lot with vandalism and damage, such as the perimeter fence recently being knocked down, as youths gain regular access to the stadium.
"We have already received help from Gemma who runs a gym close by the ground at the Pwllgwaun end, with CCTV installed there. The funds raised by Warren will now enable us to extend the CCTV coverage into the Sardis Road stadium. It is not an easy situation to monitor and to police but these recent developments will prove to be a great help."