Return to News
WRU suspends community rugby – Pontypridd matches off
Sat 14th March
The WRU have taken the decision to suspend all community rugby acitivity, including matches and training, until at least 30th March 2020.
This will entail Pontypridd RFC's next two Indigo Premiership fixtures, against Llandovery on Saturday 21st March and against Swansea on Saturday 28th March, being postponed.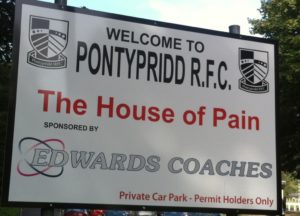 The full WRU statement is as follows:
The WRU, having considered expert medical advice has taken the precautionary measure of suspending all forms of rugby, including training and rugby-related courses, from 6pm on Saturday 14 March up to and including Monday 30 March 2020.
The WRU has taken this decision in the interests of players, supporters, volunteers, referees, stakeholders and Welsh communities in general.
The WRU will continue to assess this fast-moving situation and provide further updates in due course.
********************************************************************************************
Mae Undeb Rygbi Cymru, ar ôl ystyried cyngor meddygol arbenigol, wedi cymryd y mesur rhagofalus o atal pob math o rygbi, gan gynnwys hyfforddiant a chyrsiau rygbi, o 6yp ar 14eg Mawrth hyd at a chan gynnwys dydd llun 30ain Mawrth 2020.
Mae Undeb Rygbi Cymru wedi gwneud y penderfyniad hwn er budd ystod eang o randdeiliaid, gan gynnwys chwaraewyr, cefnogwyr, gwirfoddolwyr, dyfarnwyr a chymunedau Cymru yn gyffredinol.
Bydd yr Undeb yn parhau i asesu'r sefyllfa hon sy'n newid yn gyflym ac yn darparu diweddariadau pellach maes o law.