Return to News
Valleys Rugby Initiative launch – Friday 29th September
Thu 28th September
A Rugby Festival will be held at Sardis Road on Friday evening 29th September 2017 as the Pontypridd and Valleys Community Rugby Initiative is launched.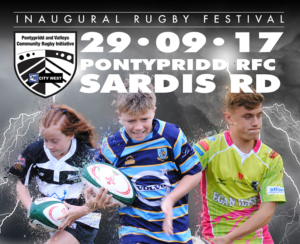 The event will feature age grade girls and junior rugby matches, leading up to the first round Dewar Shield tie between Pontypridd Schools and Swansea Schools. Entry will be charged at just £2.
The action will get underway at 4:45pm as the Bridgers and Timbers girls under 9s and under 11s play each other, followed at 5:30pm by a round robin under 12 junior tournament.
The main match between Pontypridd Schools under 15s and their Swansea counterparts will kick off at 7pm.
Looking forward to the launch, Pontypridd Schools coach Justin Burnell commented:
"Our aim is to create strong links with schools and clubs within the area, also with Coleg y Cymoedd and the University of South Wales and working closely with the Blues North under 16s and under 18s, to develop rugby within the community and to provide a clear pathway for young players.
"This is a hugely exciting time for sport and education in the valleys communities and with the help of our valued sponsors we aim to make this initiative a success."