Return to News
The Bob Penberthy Clubhouse Lounge – a celebration
Sun 14th August
On Saturday 13th August 2022, an hour before Ponty's match against London Welsh kicked off, a ceremony took place in the Clubhouse at Sardis Road in honour of one of the club's all-time greats. The lounge bar in the Clubhouse was renamed the Bob Penberthy Lounge.
Bob played a record 877 times for Pontypridd over a near-25 year period and was present along with his family, friends and former team mates of yesteryear. It was both a passionate, funny and at times emotional ceremony as the achievements of the great man were recognised.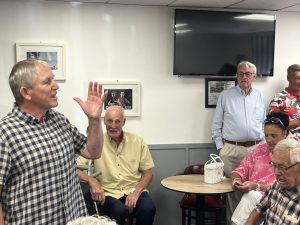 Ponty RFC CEO Steve Reardon started the ceremony and gave a passionate talk of what Bob means to the club along with his achievements. Steve handed over the floor to another former great, former team mate of many years of Bob as well as a close friend – Tommy David. Tommy spoke fondly about Bob as well as having the packed out Lounge Bar in stitches laughing at anecdotes of his and Bob's playing days in the famous black and white jersey.
Jack Bayliss then presented Bob with the club's new home jersey, the design of which was based on a famous old kit from decades past that Bob wore with distinction. Bob then said a few words himself, the humble, unassuming gentle-giant of a man thanking the club for the lounge re-naming. In a touching moment, members of the London Welsh Choir sang a congratulatory song for Bob to mark the occasion.
Just prior to the end of the ceremony, Steve Reardon summed up what Bob Penberthy means to the club perfectly – "The words icon and legend get banded about quite freely these days, so I had a think of how I could best describe what Bob is to Pontypridd RFC and he is quite simply a Titan of this club."
Photo Gallery – The Bob Penberthy Clubhouse Lounge Ceremony – Pontypridd-RFC