Return to News
Taff Vale Park fundraising
Sat 22nd February
The work to repair considerable flood damage to Taff Vale Park, the home of Pontypridd RFC Mini & Juniors, is underway, as is a fundraising campaign to cover the costs.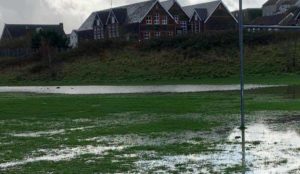 A benefit night has been arranged for Friday 20th March, the be held in the Grandstand Lounge at Sardis Road commencing at 7pm.
Live entertainment will be provided by local band Temporary Chaos, with a raffle of rugby memorabilia also to take place. Tickets for the event are now on sale priced at £5 per person.
For more information or to book a ticket please contact:
Alison: 07771364410
Leanne: 07969165623
Donna: 07970294172
Donations to the Taff Vale Park clean up can also be made here:
https://www.justgiving.com/crowdfunding/tvpstormdennis?fbclid=IwAR1AKoiDL_v8ZHHpsIPe-nWwDIWuW0j0MB07fB0HVMirnRrBJIjqu3Syk9c