Return to News
Storm damage to Taff Vale Park
Mon 17th February
Storm Dennis packed a hard punch when it hit South Wales over the weekend, causing devastation to homes and businesses. The cancellation of rugby matches paled into insignificance when put in the context of the wider disruption to people's lives.
Pontypridd RFC has extended its sympathy to other rugby clubs affected by flooding and storm damage, likewise to the wider community.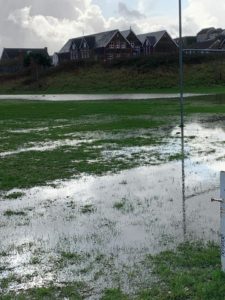 Whilst the Sardis Road stadium on the banks of the Rhondda managed to escape any damage, the same was not true of Taff Vale Park, the home of Pontypridd RFC Mini & Juniors. a mile down the valley alongside the raging river Taff.
The pitch there was flooded and significant damage caused to the recently refurbished changing room complex.
The Mini and Junior section are assessing the damage and the actions required to make repairs –  please keep an eye on the Pontypridd RFC Mini and Juniors facebook page or contact Samantha Rees on 07989453781 for more information about any help required.