Return to News
Six Nations tickets 2019 on sale / Tocynnau Chwe' Gwlad 2019 ar werth
Sun 23rd September
Applications are invited to purchase tickets for Wales' home Six Nations matches 2019 from Pontypridd RFC.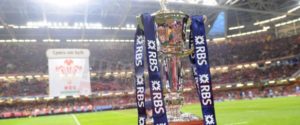 Wales have two home games in the 2019 tournament – against England on 23d February – 4:45pm ko – and against Ireland on 16th March – 2:45pm ko.
Tickets, priced between £70 and £110 are available on sale from Pontypridd RFC, with a deadline for return of application forms by Friday 19th October 2018.
An information sheet and application forms are attached, to be returned to Martyn Morgan at the Club Office or by e-mail: tickets@ponty.net
---
Gwahoddir ceisiadau i brynu tocynnau i gemau Chwe' Gwlad cartref Cymru 2019 oddi wrth CR Pontypridd.
Mae dwy gem gartref gan Gymru yng nghystadleuaeth 2019 – yn erbyn Lloegr ar 23ain o Chwefror – cic gyntaf 4:45pm – ac yn erbyn Iwerddon ar 16ed o Fawrth – cic gyntaf 2:45pm.
Mae tocynnau am brisiau rhwng £70 a £110 ar gael o GR Pontypridd, gyda'r angen i ddychwelyd ffurflenni cais erbyn dydd Gwener 19eg o Hydref 2018.
Mae taflen wybodaeth a ffurflenni cais wedi eu hatodi, i'w dychwelyd i Martyn Morgan yn Swyddfa'r Clwb neu trwy e-bost i: tickets@ponty.net
Six Nations 2019 Information / Six Nations 2019 Application / Six Nations 2019 Application