Return to News
Prichard's Contracting – backing Ponty RFC
Tue 12th June
Prichard's Contracting Ltd will remain as a sponsor of Pontypridd RFC for the coming season.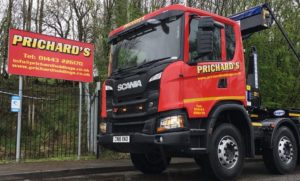 The Llantrisant based haulage and contracting company is one of the new generation of club partners whose support is greatly valued.
Announcing the continuation of the sponsorship deal, Ponty Rugby Commercial Manager Emma Rogers said: "We are delighted that Prichard's Contracting have pledged their support for the coming season. The Prichard logo will be displayed on the sleeves of the new playing and replica jerseys."

Pippa Prichard, on behalf of the company, added: "We are proud to support Pontypridd RFC for another season. We wish the team all the best in their campaign, and along with all other supporters, we look forward to seeing the boys back in action."
Prichard's is a leading provider of construction and support services to both the private and public sectors throughout Wales, the Midlands, the South West and London boroughs. Established in 1995 as a plant hire company, we  offer a full range of services including demolition, site clearance, bulk earthworks, drainage, civil engineering, ground works, infrastructure services, re-cycling and waste management.
We are focused on providing the highest professional standards to the construction and support services sectors, with a strong emphasis on building, trustful, collaborative working relationships with all our clients. Our vision is to deliver cost effective, best value and sustainable solutions in the field of construction and support services on all our projects.