Return to News
Premiership round up – 17/02/18
Sun 18th February
Merthyr consolidated pole position in the Premiership following the round of games played on the weekend of 17th February.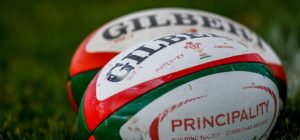 The action got underway on the Friday night as Newport hosted Llanelli and claimed a 29pts to 20 victory, a result that ultimately lifted them to fourth position in the table.
Merthyr registered a 30pts to 21 bonus point home win over Pontypridd to extend their lead at the top of the table to six points. Carmarthen Quins edged into second place above RGC, the two clubs meeting at Parc Eirias and sharing the honours in a 20pts all draw.
Ebbw Vale continued a fine run of form, beating Bridgend away for the second time in a week, this time by 18pts to 21 having earlier dispatched the Ravens in the National Cup. Llandovery pipped Cardiff by 26pts to 24, the capital team recently making a habit of losing narrowly by surrendering interval leads.
Bottom side Neath lost heavily once more, by 10pts to 40 against Bedwas, the visitors scoring six tries, five of those claimed by scrum half Matthew Rowlands. Another away win was claimed by Cross Keys, by 23pts to 30 at Swansea, whilst Bargoed edged a valuable home win over Aberavon by 16pts to 14.
Principality Premiership – 17th February 2018
| | | | | | | | |
| --- | --- | --- | --- | --- | --- | --- | --- |
| | Team | P | W | D | L | F-A | Pts |
| 1. | Merthyr | 4 | 4 | 0 | 0 | 132:74 | 27 |
| 2. | Carmarthen | 4 | 3 | 1 | 0 | 95:72 | 21 |
| 3. | RGC 1404 | 3 | 2 | 1 | 0 | 133:37 | 20 |
| 4. | Newport | 3 | 3 | 0 | 0 | 76:52 | 18 |
| 5. | Pontypridd | 4 | 2 | 0 | 2 | 114:83 | 17 |
| 6. | Ebbw Vale | 4 | 3 | 0 | 1 | 98:56 | 16 |
| 7. | Llandovery | 2 | 2 | 0 | 0 | 56:31 | 15 |
| 8. | Swansea | 4 | 2 | 0 | 2 | 87:69 | 12 |
| 9. | Cross Keys | 3 | 2 | 0 | 1 | 81:81 | 12 |
| 10. | Cardiff | 4 | 1 | 0 | 3 | 84:93 | 12 |
| 11. | Bedwas | 3 | 1 | 0 | 2 | 83:73 | 11 |
| 12. | Bargoed | 3 | 2 | 0 | 1 | 64:53 | 10 |
| 13. | Aberavon | 4 | 0 | 0 | 4 | 43:86 | 7 |
| 14. | Llanelli | 4 | 0 | 0 | 4 | 63:161 | 4 |
| 15. | Bridgend | 3 | 0 | 0 | 3 | 45:91 | 4 |
| 16. | Neath | 4 | 0 | 0 | 4 | 45:187 | 1 |