Return to News
Premiership round up – 10/03/18
Sat 10th March
It was all change at the top of the Principality Premiership following the round of games played on Saturday 10th March.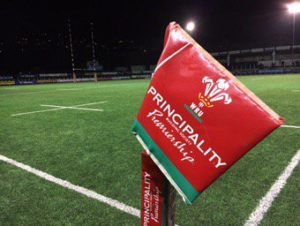 Former table toppers Merthyr went down to a narrow 18pts to 19 home defeat against Newport, the kicking of Black & Ambers outside half Matt O'Brien, with a fourteen point haul, proving decisive.
It was Carmarthen Quins who took full advantage of Merthyr's slip-up, taking over top spot following a 13pts to 23 win at Cross Keys. RGC kept close on their heels after battling to a 12pts to 16 victory away to Aberavon.
There was a thriller at Sardis Road with the result in the balance to the very end, with Pontypridd edging out Bridgend by 38pts to 37, both teams claiming a try bonus point. Cardiff posted an emphatic 53pts to 25 win over Swansea at the Arms Park, running in seven tries in doing so.
Bedwas were 13pts to 6 victors over visiting Llandovery, with Ebbw Vale also winning at home against bottom side Neath, by 22pts to 6. Llanelli posted their first win in the integrated league, by 48pts to 7 over Bargoed.
Principality Premiership – 10th March 2018
| | | | | | | | | | | | | | |
| --- | --- | --- | --- | --- | --- | --- | --- | --- | --- | --- | --- | --- | --- |
| POS | TEAM | PL | W | D | L | PF | PA | DIFF | TF | TA | TB | LB | PTS |
| 1 | Carmarthen Quins | 6 | 5 | 1 | 0 | 152 | 95 | 57 | 19 | 11 | 2 | 0 | 30 |
| 2 | RGC 1404 | 5 | 4 | 1 | 0 | 199 | 70 | 129 | 26 | 9 | 3 | 0 | 29 |
| 3 | Merthyr | 5 | 4 | 0 | 1 | 150 | 93 | 57 | 20 | 9 | 3 | 1 | 28 |
| 4 | Newport | 4 | 4 | 0 | 0 | 95 | 70 | 25 | 11 | 8 | 2 | 0 | 22 |
| 5 | Pontypridd | 5 | 3 | 0 | 2 | 152 | 120 | 32 | 23 | 15 | 3 | 0 | 22 |
| 6 | Cardiff | 6 | 3 | 0 | 3 | 168 | 137 | 31 | 21 | 17 | 3 | 2 | 22 |
| 7 | Ebbw Vale | 5 | 4 | 0 | 1 | 120 | 62 | 58 | 12 | 7 | 1 | 1 | 20 |
| 8 | Bedwas | 5 | 3 | 0 | 2 | 137 | 93 | 44 | 20 | 12 | 2 | 0 | 20 |
| 9 | Llandovery | 3 | 2 | 0 | 1 | 62 | 44 | 18 | 5 | 7 | 0 | 1 | 16 |
| 10 | Cross Keys | 4 | 2 | 0 | 2 | 94 | 104 | -10 | 13 | 13 | 2 | 0 | 13 |
| 11 | Aberavon | 6 | 1 | 0 | 5 | 96 | 115 | -19 | 15 | 10 | 1 | 3 | 13 |
| 12 | Swansea | 6 | 2 | 0 | 4 | 133 | 172 | -39 | 14 | 23 | 0 | 2 | 12 |
| 13 | Bargoed | 5 | 2 | 0 | 3 | 81 | 135 | -54 | 10 | 20 | 1 | 0 | 10 |
| 14 | Llanelli | 6 | 1 | 0 | 5 | 124 | 209 | -85 | 16 | 29 | 1 | 0 | 9 |
| 15 | Bridgend | 5 | 0 | 0 | 5 | 96 | 170 | -74 | 13 | 22 | 1 | 2 | 6 |
| 16 | Neath | 6 | 0 | 0 | 6 | 70 | 240 | -170 | 8 | 34 | 0 | 0 | 1 |