Return to News
Ponty Youth claim victory over Cardiff University
Mon 9th October
Pontypridd Youth played their second Blues A League tie of the season, at home against Cardiff University on Saturday 7th October, and notched up a valuable 15pts to 3 in a close fought encounter.
The opposition was something of an unknown quantity, being newcomers to the league, but Ponty knew they would be in for a searching test against a talented students' team.
Both teams set their stalls out early on, playing an open and expansive game built on retaining the ball and going through the phases. The crowd was entertained with end to end action with both teams being denied early on by solid defensive efforts.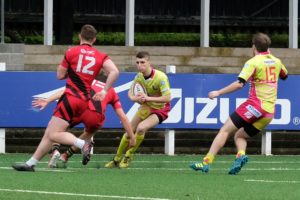 As the first half progressed Ponty gained an advantage at the line out and used it to set up a driving maul and claim the first try of the game. Cardiff struck back from the restart with a penalty in mid field. Ponty then created chances but were unable to finish them off with Cardiff's scramble defence in their way. It was in the closing minutes of the half that Ponty worked the ball out wide with Jordan Thomas crossing and Rhodri Smith converting to extend the home lead at the interval to 12pts to 3.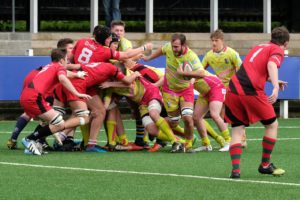 From the restart the visitors set about closing the gap with a period of extensive pressure with their centres causing problems for a determined home defence. The students created several chances but were unable to convert any into points on the board.
Ponty Youth gradually worked their way back into the game with pressure being exerted on the visitors who eventually conceded a long range penalty just inside their own half which was converted by Rhodri Smith, extending the home side's lead to 15pts to 3. This proved to be the final score of the game but both sides continued to entertain the crowd, playing to their strengths as the last quarter of the contest was played at pace and with a great deal of endeavour and commitment.