Return to News
Ponty Youth battle out a home draw against top rivals Rumney
Mon 10th September
On Saturday 8th September Pontypridd Youth hosted Rumney Youth at Sardis Road in a Blues Premiership match which even at this early stage of the season had all the makings of a crunch tie between two title contenders.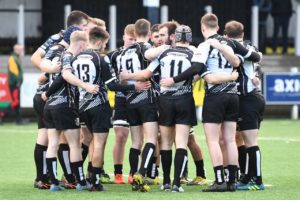 Over the last four seasons fixtures between these teams had been notoriously tight with the outcome going to the wire. Although both sides on this occasion fielded young teams with a number of first year youth players on show it looked like business as usual as both teams set out their stalls in the initial exchanges.
Pontypridd from the off were eager to get quick ball out wide against a larger Rumney pack who were intent on keep the ball tight. The game during the first quarter was very much an arm wrestle with both teams striving to set up good attacking positions. It was late in the first half that Ponty generated the quick ball they were looking for and allowed the backs to cut loose with a fine try scored out wide by Bailey Roberts and converted by Lloyd Dennett. Rumney struck back with a penalty followed by a close range try from a line-out deep in the home half to register an interval score-line of 7pts to 10.
The second half saw both teams up their tempo before a soft penalty awarded for offside allowed Rumney to extend their lead. The pressure was starting to tell on both teams with a lack of composure evident and a failure to capitalise on good attacking options. The Cardiff side were now under pressure defending their own line and gave away two penalties at the breakdown both of which were converted by Lloyd Dennett to level the scores.
The final quarter continued in much same vein with both teams creating but failing to make the decisive break through. A hard fought contest ended in a 13pts all draw which was a fair reflection on the effort of two young teams who will surely improve as the season progresses.