Return to News
Ponty schools post big win against Llanelli
Sat 14th October
Pontypridd Schools secured their second home Dewar Shield win of the campaign on Friday evening 13th October.
Facing a very competent Llanelli Schools side at Sardis Road, Pontypridd posted an emphatic 65pts to 19 victory.
After the game, Sam Davies was nominated as City West Commercials man of the match, receiving his award from Ponty Rugby director Jack Bayliss (pictured).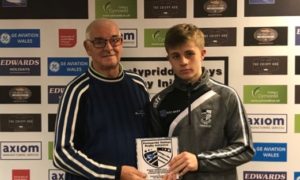 The Dewar Shield match rounded off a second successful festival of junior rugby at Sardis Road, organised by the Pontypridd and Valleys Rugby Initiative.