Return to News
Ponty Rugby – a year in lockdown
Sun 21st March
It was a year ago, on 23d March 2020 that the first lockdown was imposed in the UK to combat the spread of the Covid-19 pandemic. During the ensuing twelve months Pontypridd RFC has remained shut with no social activity and no rugby played.
It was on the 28th of February that the first case of Covid was confirmed in Wales, with the first fatality reported on the 16th of March. The UK government at that time was considering measures to stem the spread of the virus, but large spectator events such as the Cheltenham Festival and the Stereophonics concert in Cardiff allowed to proceed.
Unbeknown to anyone at the time, Ponty had already played their final game of a curtailed season, away to Merthyr on 7th March. The last minute cancellation of the Wales v Scotland Six Nations tie the following weekend gave an indication that the situation was deteriorating, that cancellation denying the club its last social event before the official lockdown.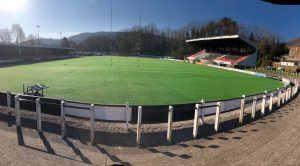 Some rugby activity was allowed by the WRU over the ensuing summer months, with squads such as Coleg y Cymoedd, the Blues under 18s and Ponty Mini & Juniors holding limited training sessions at Sardis Road. Pubs and clubs were also allowed to open in July, with social distancing measures in place, but having considered the options and costs involved, Pontypridd RFC did not take up on this offer. The decision was proved to be prudent and correct as the deadly virus took hold again into the autumn and winter.
Any plans to resume community rugby activity, as allowed by the WRU in November, or to open up the club bars socially in the lead-up to Christmas, were shelved as a 'firebreak' and then a full lockdown were again imposed in Wales.
Looking back over the unprecedented events of the past twelve months, Ponty Rugby CEO Steve Reardon appreciates how difficult it has been, but still remains hopeful for the future.
"Outside of the relevant scientific community, I doubt that many of us foresaw or understood the implications of the magnitude of the pandemic" said Reardon.
"During the prolonged absence of our great community sport, we have lost a number of dear friends, members and supporters. However with the vaccination programme well under way, we can look forward to a time when we can, once again, enjoy spectating and supporting the playing of community rugby football."
A year on from when Covid-19 took hold and despite the great losses and the difficulties endured, there is light at the end of the tunnel. When any kind of normality resumes, Pontypridd RFC playing rugby and hosting social events, well supported and proudly representing its community, will be very much a part of it.