Return to News
Ponty edge thrilling win over Newport
Sun 17th November
The opening exchanges of the game were evenly balanced, a dogfight in no man's land with neither try line threatened. It was not until the thirteenth minute that the stalemate was broken as home outside half Matt O'Brien kicked a penalty, then trading kicks with his opposite number Diggy Bird to square the scores at 6pts all.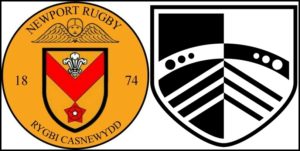 The game then ignited into its second quarter, Ponty striking first as livewire scrum half Jamie Hill darted down the blind side from a line-out take, feeding winger Alex Webber to arc in near the posts, his try converted by Bird. Newport responded, firstly through another O'Brien penalty, then following a sweeping counter attack as centre Harry Griffiths crossed for a try which O'Brien converted. It was Ponty however who had the last word as Jamie Hill burst through to score, Bird's conversion edging his team into a 16pts to 20 interval lead.
The visitors' advantage was however short lived as Newport struck twice in quick succession, hooker Brodie Coghlan going over from a tap penalty then winger Jon Morris finishing off a wide attack, the first try converted by O'Brien. Ponty kept in touch through a Bird penalty but were being penalised and on the back foot, Newport centre Griffiths breaking and putting his captain Rhys Jenkins over for a try which O'Brien converted.
Just as the home team seemed to be powering to victory, the game was turned on its head in dramatic fashion. Newport winger Elliott Frewen was yellow carded before Ponty struck for two crucial late scores, firstly as lock Sean Moore crossed out wide then full back Morgan Richards finishing off an opportunist kick and chase foray, both tries converted by Bird. As the Black and Ambers applied late pressure, the visitors made every tackle count in defending their narrow lead, but had to look on as O'Brien aimed an injury time penalty at goal from half way, the kick drifting wide and Ponty holding out for a 35pts to 37 win.
Newport:
15.David Richards. 14.Jon Morris. 13.Harry Griffiths. 12.Geraint O'Driscoll. 11.Elliott Frewen. 10.Matt O'Brien. 9.Luke Crane (Geraint Watkins).
1.Lewis Smout (Louis Jones). 2.Brodie Coghlan (Evan Whitson). 3.Garin Harris (Tom Piper). 4.Andrew Mann (Garin Price). 5.Joe Bartlett. 6.Josh Skinner. 7.Kyle Tayler (Josh Reid). 8.Rhys Jenkins – cpt.
Tries: Griffiths (33); Coghlan (46); Morris (48); Jenkins (63)
Cons: O'Brien (34, 47, 64)
Pens: O'Brien (13, 19, 28)
Pontypridd:
15.Morgan Richards. 14.Alex Webber. 13.Corey Sheppard. 12.Dafydd Lockyer – cpt. 11.Dale Stuckey. 10.Diggy Bird. 9.Jamie Hill.
1.Ben Stephens (Curtis Reynolds). 2.Nathan Huish (Rhydian Jenkins). 3.Morgan Bosanko. 4.Sean Moore. 5.James Murphy (Sion Parry). 6.Kristian Parker. 7.Rhys Shellard. 8.Morgan Sieniawski.
Tries: Webber (25); Hill (35); Moore (71); Richards (74)
Cons: Bird (26, 36, 72, 75)
Pens: Bird (16, 23, 55)
WRU Man of the Match: Morgan Richards
Referee: Adam Jones.