Return to News
Pitch perfect
Wed 30th June
The 3G pitch at Sardis Road has been given a mandatory two-year inspection and has passed with flying colours.
The synthetic playing surface has unfortunately seen little use over the past fifteen months due to the Covid-19 lockdowns but remains in prime condition ready for the resumption of competitive rugby.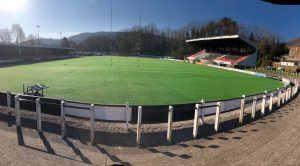 The cost of the inspection was covered by donations kindly given by the Friends of Pontypridd and the Former Players' Association, for which Pontypridd RFC is extremely grateful.
Club director Jack Bayliss, who oversees ground maintenance, was pleased with the outcome of the inspection.
"The 3G pitch has been lying fallow for much of the time due to the lockdowns" said Jack "but maintenance work has been on-going with regular brushing of the rubber crumb that provides a foundation for the playing surface.
Without the mandatory inspection, and without the pass marks, we would have been unable to use the pitch when rugby resumes, so we are delighted with the outcome. The pitch has been classed as being in very good condition and is all ready for use, which is good news all round."
Some regulated activities now take place on the 3G pitch at Sardis Road, with the Pontypridd RFC Mini & Junior and Youth squads as well as Coleg y Cymoedd back in training, and the Soccer Sixes playing their tournaments.