Return to News
Mini & Junior Focus – Pontypridd RFC U9's & U10's
Thu 2nd December
This week we are looking at both the Pontypridd U9's and 10's, pictured below together, in their rainbow kits. The two age groups have grown in numbers since the photograph was taken, but they are both still looking for more players.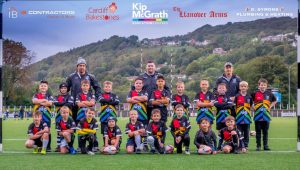 The U9's Head Coach is Ponty legend Matthew Nuthall and he is supported by Matthew Phillips and Jesse Troake. The U10's are currently coached by Gary Pugh and James Boon but are looking for a Head Coach to take the team forward – this is a fantastic opportunity to work with a great group of children and coaches whilst training and playing at Sardis Road.
If you're interested in the Head Coach role for the 10's or you know any children that would like to give rugby a try and join either team, please don't hesitate to get in touch – you're sure of a warm and friendly welcome and the use of the fantastic facilities.
Pontypridd U9's and U10's would like to say a huge thank you to all of their sponsors –
Kip McGrath Pontypridd Education Centre
IB Contractors
D.Symons Plumbing & Heating
Cardiff Bakestones
The Llanover Arms
If you're interested in the U10's coaching position or know anyone that would like to join either team as a player, e-mail the club at media@ponty.net and we can pass your information on to the relevant person in the Mini & Junior Section.