Return to News
Matchday Preview – Pontypridd v Merthyr
Mon 18th September
On Saturday 23rd September there's a switch of focus for Pontypridd as the League is parked for a week and attention moves to the Welsh Cup. We welcome Valley Rivals Merthyr to Sardis Road for a first round Welsh Premiership Cup tie, kick-off is 2:30pm.
The Welsh Cup, particularly at Premiership level has taken on a few different formats in recent campaigns – group stages, home and away legs in pool stages with teams being split into east and west, as examples. This season the competition, which again consists solely of teams in the Welsh Premiership reverts back to its traditional guise of rounds of straight knock-out ties.
If Pontypridd are looking for an omen, they can take solace from the fact the Valley Commandos have won their last two meetings in the Welsh Cup at Sardis Road against the men from The Wern. On Saturday 2nd October 2021 Ponty beat the Ironmen 21-14 thanks to quick-fire tries at the start of each half from Dale Stuckey and Lloyd Rowlands. Before that you would then need to rewind back to Saturday 26th March 2016 for the previous Welsh Cup meeting between the two clubs at Sardis Road. The match back in 2016 made national headlines due to the muddy nature of both teams as a result of the horrendous weather conditions and state of the pre-3G pitch at The House of Pain. Ponty edged Merthyr 6-5 that afternoon thanks to two Ceri Sweeney penalties against a tough Merthyr side that were still in the Welsh Championship at the time.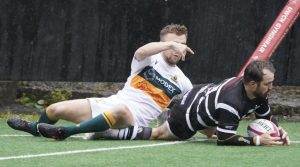 Despite the change of competition this coming Saturday, Pontypridd will be hoping to pick up their maiden win of the new season against the Ironmen who have two wins and one loss to their name so far this campaign.
SUPPORTER INFORMATION:
Tickets – Please note that as this week's match is in the Welsh Cup it's an all-pay fixture and season tickets won't be valid. Admission on the day will be £12 full, £10 concession access-all-areas and under 16's free if accompanied by a paying adult. You can purchase tickets on the day or to save time can use our online e-Ticket system, link – Welsh Cup – Pontypridd v Merthyr – The club has increased the range of tickets now available to cover small groups (2 people) and large groups (4 people). We are also have a family ticket for our Youth and Mini & Junior sections.
Club Shop – To purchase your Ponty RFC merchandise, the Club Shop will be open for one hour both before and after Saturday's match.
Live Sport – The Clubhouse will be open from midday and there'll be live coverage of three matches from the 2023 Rugby World Cup on throughout the afternoon and into the evening – Georgia v Portugal (1:00pm kick-off), England v Chile (4:45pm kick-off) and South Africa v Ireland (8:00pm kick-off).
The first Valleys Derby of 2023 is nearly upon us so make sure you pack out Sardis Road this Saturday, Ponty Fans!