Return to News
Junior Rugby Festival – Friday 13th October
Wed 11th October
A second festival of junior rugby will be held at Sardis Road on Friday evening 13th October 2017, as part of the Pontypridd & Valleys Rugby Initiative.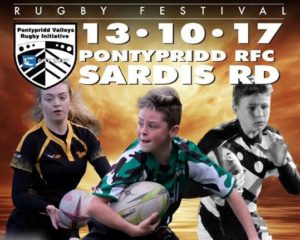 The first such event held on 29th September proved to be a great success, with a crowd of close to 1,000 turning up to enjoy a feast of rugby featuring local girls' and boys' teams.
The rugby festival planned for Friday 13th October promises to live up to all expectations.
The event will kick off at 4:45pm with Girls Rugby Clusters featuring the Bridgers, Timbers and Miners under 9s and under 11s. At 5:30pm there will be a round robin tournament contested by the under 9s squads of Pontypridd, Porth, Beddau and Llantwit Fardre.
To close the night, at 7pm Pontypridd Schools under 15s will play a home Dewar Shield tie against Llanelli Schools.
Entry to the Rugby Festival will be charged at £2, all are welcome to attend.