Return to News
High flying Ponty Youth claim Merthyr win
Mon 12th February
Pontypridd Youth were in Blues A League action on Friday evening 9th February, playing an away tie against Merthyr Youth.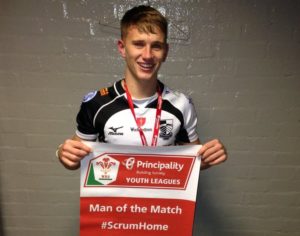 In freezing temperatures both teams set out to play attacking rugby from the off.   The game was played at pace and, in defiance of the conditions, some fine handling skills were displayed which kept the crowd entertained from start to finish.
Pontypridd made the best of starts,  scoring a brace of tries in the opening quarter of the game, making the most of some well worked opportunities. Merthyr responded by putting the visitors under increasing pressure, creating several half chances but failing to capitalise. It was Pontypridd that  went in at half time with a lead of 28pts unanswered points.
The second period saw the young Ironmen continue to advance with their midfield partnerships working well. The home team's persistence finally paid off as they claimed a converted try. Pontypridd were in turn able to exert pressure, retaining possession well and finishing their chances to gradually built an unassailable lead, enough to claim a valuable away win by 47pts to 7.
Pontypridd tries were scored by Will Holmes (2), Bailey Roberts, Dafydd Smith, Rhodri Smith, Ben Robinson, Rhodri Edwards and Dafydd Lloyd, with outside half Bailey Roberts adding two conversions and a penalty. Replacement Rhodri Edwards was nominated as man of the match (pictured above).