Stan Thomas first played for Pontypridd as a 19-year-old wing-threequarter on 5th September 1953, against Llandaff, and this was the start of a lifelong association with the club as player and committeeman.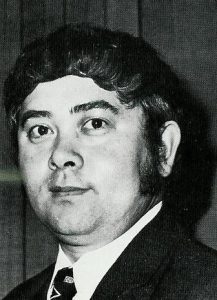 A serious shoulder injury cut short his playing career, but Stan maintained his strong links with the club, firstly as organiser of the Pontypridd Athletic team, then as a prominent committeeman, and eventually as Secretary and Chairman of Pontypridd RFC.
His rugby career had started at the local Grammar School, where he was capped for Wales U-16 XV in 1950, and at U-18 level in 1952. His performances on the wing for Pontypridd gained him further honours, although he never quite made the senior international scene, which was the fate of so many good players from the "unfashionable" clubs in those days. He had terrific pace, was built like a pocket battleship, and gave his all for the club in every game he played.
This was just of his involvement with the club, as he was voted onto the committee in June 1964, and also helped to run the Athletic XV in his last season as a player. His involvement with the Athletic team continued over the next few years, and his name was mentioned constantly in the minutes of the AGM for his work with the second fifteen. Stan then became the club's Hon. Secretary in 1969, and continued in this role until 1994, when he became the club's chairman, a role he fulfilled for the next ten years or so.
Many of us regulars will remember Stan as the match commentator at Sardis Road, announcing the teams and scorers.
Stan Thomas: Winger – 201 appearances 1953-1963