Formerly with Glamorgan Wanderers, from where he won Wales u 21 caps against Scotland in 1990 and 1991, Phil Thomas joined Pontypridd from Bridgend RFC in 1993.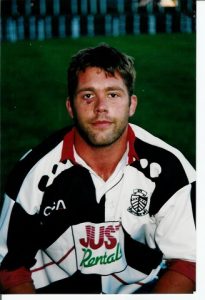 Known as 'Tonka' he was a great favourite at Sardis Road as a dynamic openside flanker, but found his chances  limited due to the presence of international back rowers Kingsley Jones, Martyn Williams and Richie Collins.
Phil remained a stalwart of Pontypridd for five seasons, before returning to Bridgend RFC in 1998.
Phil Thomas: Flanker 84 appearances 1993-1998