Cenydd Thomas played for Pontypridd in the early fifties, his time at the club curtailed by national service, and also playing for Pontypool, Aberavon and Blackheath.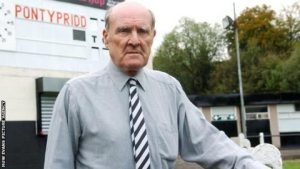 When his playing days were over, Cenydd went on to gain greater recognition as a referee of international status.
After his retirement, he gave a lifetime's unstinting service to Pontypridd RFC as secretary, committeeman, director, trustee and Chief Executive.
A former Chief Constable with South Wales Police, Cenydd was awarded an MBE for his services to the community.
Stepping down as Chief Executive of Pontypridd RFC in 2005, Cenydd continued to play a prominent role as a Director of the Club until the summer of 2009.
Cenydd Thomas: Centre/ Wing 8 appearances 1950-1952/ Secretary /Chief Executive