Tongan international Ngalu T'au joined Ponty in the 1998/99 season after catching the eye of coach Lynn Howells when he saw him playing for the mighty Auckland during one of his seven games for that club.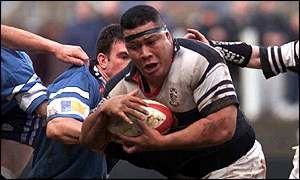 A highly versatile player, being able to play at tight or loose head, Ngalu soon became a huge favourite with the Pontypridd supporters, for his dynamic charges in the loose.
A serious neck injury sustained in a league match against Swansea threatened to end Ngalu's career, but he bravely fought his way back to contention in the Pontypridd team.
Ngalu, who was a police officer in his homeland of Tonga, played for Pontypool and then Doncaster after leaving Sardis Road.
Nglau T'au: Prop 62 appearances 1998-2001