Having come out of the army at the end of the Second World War, Tommy Ryan played for his local team of Cilfynydd. He joined Pontypridd at a relatively late stage in his career, making a debut against Bridgend in 1952, already having turned thirty years of age.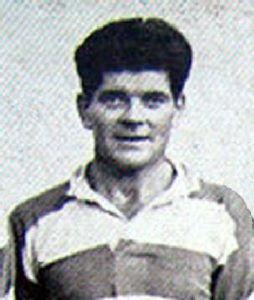 Initially a prop, Tommy moved to the back row and made an immediate impact as a free roving and pacey support player.
Although having played his last full season for Ponty in 1959, Tommy continued to turn out when needed, and made his final appearance in 1966, by now in his mid forties.
Tommy went on to become a dedicated committeeman, club chairman in 1980, and then a trustee. His dedication to the cause of Pontypridd RFC also extended to running the line for many years, and was attributed to making more ground for the team than any of the players on the field!
Tommy Ryan passed away in September of 2004, having given a lifetime commitment to Pontypridd.
Tommy Ryan: Flanker 278 appearances 1952-1966