Merthyr boy Adam Powell was a relative late starter to competitive rugby, having previously been on the books with Swansea FC as a goalkeeper. Converting to the oval ball game, Adam made his initial appearances for his local club at under 16 level. Making an immediate impact as a robust back row player, Adam moved on to play for Merthyr Youth, and gained international honours with Wales in the under 18 and under 19 age groups.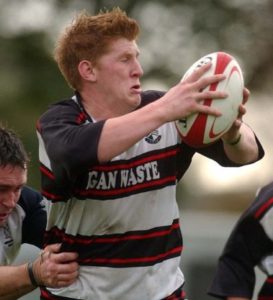 Called up to the Blues Academy, and representing Wales at under 19 level, Adam was placed with the Cardiff RFC premiership team during the 2004 – 2005 season. Having been selected by Wales under 21s for the World Cup tournament in Argentina during the summer of 2005, and given full time Academy status by the Blues region, Adam joined up with Pontypridd at the commencement of the 2005 – 2006 campaign.
Showing good versatility and committment in covering positions across the back row for Ponty, Adam made an important contribution to the club's successful cup winning run of 2006, winning a number of man of the match awards in the process. His effective combination of physical brawn and a good rugby brain on a broad pair of young shoulders won Adam further international honours with Wales under 21s during the Six Nations and World Cup campaigns of 2006.
In late 2006, finding his chances at his preferred positions of 8 and 6 limited at Ponty, Adam bode farewell and left for Cardiff.
Adam Powell: No8/ Flanker 39 appearances 2005-2006