Hailing from Ferndale in the Rhondda Fach valley, Gavin "Tinner" Morris played his junior and youth rugby for Tylorstown RFC.
Making his mark as a physical and abrasive scrum half, who could also cover the inside centre position, Gavin was selected to represent Glamorgan County.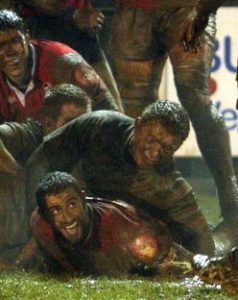 Having trialed for Pontypridd during the summer of 2008, Gavin was signed up for the club's senior squad for the ensuing season.
Gavin's debut season at Ponty was marred by illness, and apart from a handful of pre-season games in summer 2008, he took no further part in the 2008 – 2009 season.
Having recovered, Gavin once again took up training with the Ponty squad, with the aim of recommencing his Rugby career at Sardis Road in the 2009 – 2010 season.
In the summer of 2010, Gavin decided to take time out from rugby, both to recuperate from his series of injuries, and to concentrate on a blossoming boxing career.
Gavin Morris: Scrum Half 16 appearances 2008-2010