As the heart of Pontypridd Rugby Football Club continued to beat, it surely beat the strongest in the breast of this man.
Dale first came over to these shores from his home in New Zealand's King Country in 1989 following his elder brother Shane to Ponty.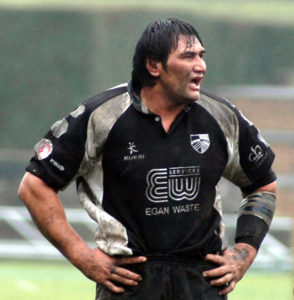 He has been a stalwart of the club ever since and qualified for a testimonial in 1999. Courtesy of a Scottish grandfather Dale played for that country's A team in 1992 but then elected to represent his adopted homeland winning a first senior cap for Wales against South Africa in 1996.
Good distribution off the base of the scrum, making the hard yards, and the big hits, are Dale's forte.
A combination of Kiwi brawn and brain and raw Welsh passion have made the Chief a cult figure with the Sardis Road supporters.
Some of his awesome tackles have already entered into the club's folklore whilst the ultimate honour was bestowed upon Dale when he was elected as captain of Pontypridd RFC in 2001, 2003 and again in 2005.
Having previously been employed as a development officer with the highly successful "Buy as you View" schools initiative, in the summer of 2004, Dale took up a post as WRU and Blues regional development officer in the Valleys, passing on his great wealth of rugby knowledge to a new generation of up and coming players.
Retiring from playing at the close of the 2006/07 season, Dale took up the position of forwards coach under the stewardship of former team-mate, Paul John.
During the 2009/10 close season, a tactical switch was made, owing to Paul John's increasing workload with his dual role as Head Coach of the Wales National Sevens squad, with Dale becoming head Coach of Pontypridd RFC.
Having guided Pontypridd through a hugely successful campaign, Dale McIntosh was given the accolade of Premiership Coach of the Year 2011.
Masterminding Pontypridd to further success as Welsh Cup winners in 2006, 2011 and 2013 and as League Champions in 2011, 2012 and 2013, McIntosh was given the accolade of Premiership Coach of the Year in 2011 and 2013.
The identification and nurturing of future talent had always been a key role in Dale's career, from his time as a Development Officer with the Pontypridd Academy, through to spells working with Wales under 18s and under 20s and as age grade coach with the Cardiff Blues.
His ability to recognise raw talent from amongst the valleys communities and to place his faith in such talent as it matured under his mentorship was a prime asset. His motivational skills coupled with an astute knowledge of the game gave him the potential to be a top class coach. The unprecedented successes achieved by Pontypridd RFC during his tenure with the club provide ample proof of his ability.
Dale McIntosh's time with Pontypridd RFC is a "golden age" all of its own.
Facts and figures, urban myths, tales of larger than life exploits on and off the field, memories of big games, big tackles, glorious successes and heroic failures… the Chief left an indelible impression on the club's collective identity.
That era came to an end in October 2013, with the 'Maori Mawr' moving on to join the Cardiff Blues.
Dale McIntosh: Lock/ No8 454 appearances 1989-2007 / Coach 2007