Born in Philadelphia, USA, Lance Manga was totally ignorant of the rugby union game until he joined South Jersey RFC in 1977.
Keen to develop his rugby skills, Lance jumped at coach Mel Smith's invitation to join Pontypridd RFC for the 83/84 season.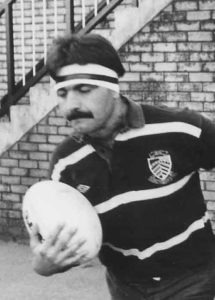 Gaining valuable experience playing alongside players such as Bob Pemberthy, Neil Wilding, Mike Alexander, Jeremy Pugh, Marco Orsi and Gary Jones, he made 3 first team appearances and played regularly for the Athletic team.
At the beginning of the 1984 season, he played for the USA Eastern Rugby Union select that lost to Pontypridd at Sardis Road 13-9.
After returning to South Jersey RFC, Lance was selected to tour Japan with the USA Eagles in 1985 and earned his first cap the following year when All Japan played USA in Los Angeles. He went on to earn 8 caps and played in the 1991 Rugby World Cup against New Zealand and England.
In gratitude for the experience he gained at Pontypridd, he presented the club with his USA Eagle shirt.
Lance Manga: Prop 3 appearances 1983