Alfred "Ack" Llewellin, was one of the great early players and administrators of the Pontypridd RFC and Welsh Rugby union. His mother was from Wooten-Under-Edge, while his father had been born in Southminster.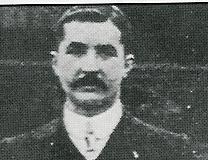 Ack Llewellin was born in Abergavenny in 1866 but he and his brother Edward moved to Pontypridd in the early 1880s, and soon started playing for the town team.  Ack first played for Pontypridd against Newport in 1888 but when the club folded that year he went to play for Treforest. However, Edward was soon planning to revive the Pontypridd team, and with his brother's help, managed to secure land in Treforest to build a field that would become known as the Taff Vale Park, and the club was reformed for the 1890-91 season.  The first two seasons Ack was club captain and Edward secretary, and when the latter moved to the North of England in early 1893, his brother took his place.
The 1892-93 season saw the Pontypridd amalgamate with the Maritime Colliery team, a great deal of negotiating involving the Llewellin brothers. Half way through this important season the new captain, Steven Sullivan, moved from the district and once again Ack Llewellin, who had retired during the Summer of 1892, was persuaded to return as club captain for a third term, and in his playing days was 6ft tall and was regarded as one of the town's finest athletes.  After  his playing days were over he took an active part in the management of Welsh rugby and was vice-president of the WRU for many years. and he also represented the Welsh Union on the International board for a considerable period. Ack Llewellin died in 1933 aged 66.
Ack Llewellin: Player / Administrator 1888-1893