Stuart Lewis was born in Mountain Ash and represented Cardiff Youth, Welsh Youth, Mountain Ash, Cardiff, and Glamorgan County. He also played for an East Wales XV, and represented Pontypridd when he was selected to play for the WRU President's XV.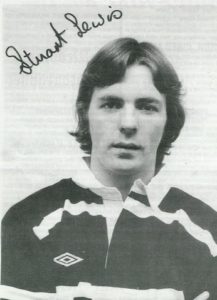 Stuart scored 24 tries, 7 conversions, 3 penalties and an impressive tally of 30 drop goals for Pontypridd during his time at Sardis Road.
Stuart was a Telecommunications Technician by trade.
Stuart Lewis: Outside Half 218 appearances 1974-1982