Mark Lewis was born in Cardiff, and represented Cardiff Secondary Schools, Cardiff Youth and Cardiff College of Education before moving on to teach PE in Essex between 1978 and 1979, during which time he represented Essex and Eastern Counties.
On his return to Wales, he joined up with Pontypridd and played for the club between 1979 and 1984, during which time he travelled overseas with Ponty on the 1981 Canadian tour.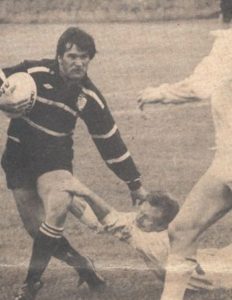 Mark scored 38 tries in 76 appearances and was the top scorer – with 19 tries to his name – during the 80/81 season.
Mark represented the Welsh Academicals and Glamorgan County, before leaving Pontypridd for Cilfynydd, playing in the Silver Ball winning Team of 1985. He went on to set a Cilfynydd club record of 6 tries in 1 game aginst Rhydyfelin, surpassing it the following weekend with 7 against Brecon.
After calling time on his playing career Mark moved to England to work as an University Lecturer.
Mark Lewis: Winger 76 appearances 1979-1984