Geraint Lewis was a promising player in a number of positions as a schoolboy, and he favoured the centre role with Cardiff Institute before joining Pontypridd.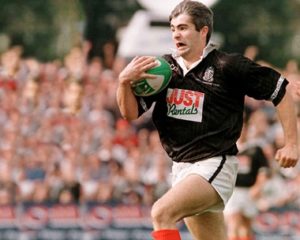 He played for the Wales Students from 1991 to 1993, scoring a try against England in his first season. Geraint joined Pontypridd in 94-95, switched to the wing and became a prolific try scorer.
In the 1995-96 cup winning run he scored eight tries, including a hat-trick against Llanharan and two memorable touchdowns against Neath in the final.
A schoolteacher by occupation, Geraint went on to play for Caerphilly before retiring from the game.
Geraint O Lewis: Winger 99 appearances 1995-2000