A native of the Swansea Valley, Emyr Lewis played his junior and youth rugby for the village club of Llandybie, winning international honours with Wales in the meantime.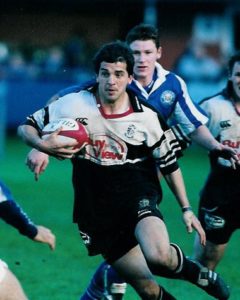 Following a period of time studying at Neath College, Emyr moved on to UWIC in 1998, and also joined up with Llandovery in the first division. His two seasons spent with the Drovers saw Emyr's combination of speed and power gaining a call up to the Wales Sevens squad.
In the year 2000 Emyr moved on to join Newport in the premiership, teaming up for a while with his father, Alan Lewis, who was assistant coach with the Black and Ambers.
Emyr's reputation as a specialist sevens player continued to blossom, representing Wales and Great Britain in World tournaments, and also honoured in the fifteen man code with a call up to the Barbarians squad in 2002.
With senior appearances at Newport limited due to the presence of international stars such as Matt Pini and Matt Mostyn, Emyr accepted an offer to transfer to Pontypridd in the summer of 2002, at a time when he also represented Team Wales in the Manchester Commonwealth Games, in the rugby sevens tournament.
After departing Sardis Road Emyr plied his trade with Bedford, Plymouth Albion and Exeter Chiefs in the English Championship.
Emyr Lewis: Full Back/ Wing 37 appearances 2002-2004