A product of Porth RFC, Gavin Jones joined Pontypridd in 1990, and proved to be a great asset to the club, able to fill in all positions between full back and outside half.
A total of 54 tries were scored by him, many of them top quality scores courtesy of the mesmerising  side step which became his trademark.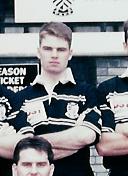 Gavin contributed fully to Ponty's league and cup successes in the mid nineties, and played against the Fijian national side in a tour match.
The fine efforts put in on the pitch by Gavin were placed into context as he fought a brave battle against leukemia, sadly passing away in 2002.
His memory will always be cherished by all who had the pleasure to watch him play at Pontypridd.
Gavin Jones: Full Back/ Wing 139 appearances 1990-1997