Ceri Jones came to Pontypridd from Ynysybwl in 1986, and soon established himself as a forceful outside centre, his daunting physical presence complemented by some silky running and handling skills.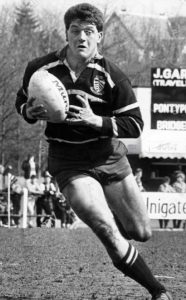 He went on to captain Ponty from 1988 to 1990, and toured Canada with Wales B in 1989.
The later years of his playing career, after he had spent some time with Cardiff, were blighted by injury and illness, but not before Ceri had won plaudits as one of the best midfield generals ever to have pulled on a Ponty shirt.
Ceri went on to coach Ynysybwl, Abercynon and Treorchy after retiring from the game.
Ceri Jones: Centre 220 appearances 1986-1995