Dennis John was an industrious scrum half for Pontypridd, who could proverbially kick the leather off the ball, but also notched up a tally of 57 tries for the club, earning international honours for his efforts.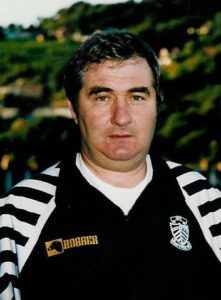 It was arguably as a coach that he made his greatest contribution to the club, returning to Sardis Road at a time when Ponty were facing a period of crisis in the new league structure, and turning around their fortunes in dramatic fashion to win the Welsh Cup in 1996, and the ultimate honour of the Championship crown in 1997.
Dennis also became long term coach of the Wales A team, and took charge of the senior national squad on their tour of South Africa in 1999. His son Paul carried on a great family tradition, becoming a stalwart of the Ponty team himself.
Dennis John: Scrum Half 191 appearances 1968-1973 / Head Coach 1992