Frank James Hawkins was born in Wivelscombe in Somerset in 1885. On leaving school he trained to be a blacksmith, but around the turn of the century moved to South Wales, where he joined the South Wales constabulary, and was stationed in Porth.
Frank made his first appearance for Pontypridd in September 1905, and was vice-captain to Duncan McGregor for the 1906-07 season.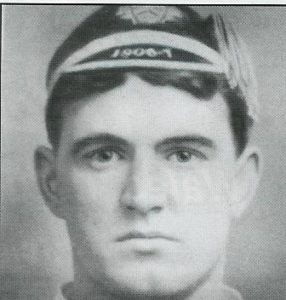 In 1908, he married Jane Williams, who was the landlord's daughter in the New York Hotel, Porth and left the force to run the Tynewydd Hotel, Porth, also becoming treasurer of Pontypridd RFC.
On the field , he led by example, and with the club struggling financially, and the local collieries on strike,the 1911-12 season was made memorable when Frank Hawkins was selected to play for Wales as a tall, mobile forward.
During the First World War, Frank joined the 14th Battalion of the Welsh Regiment and suffered severe injuries to his right leg at the battle of Mametz Wood, in one of the bloodiest weeks of the war. Invalided out of the Army because of his leg and mustard gas poisoning, he returned as landlord to the Tynewydd Hotel, Porth.
In 1925, he and his family emigrated to America, but after a short while returned to Pontypridd, where he became the landlord to the Malsters Arms, Ruperra Arms, and Bridge Hotel, Treforest.
Frank Hawkins: Forward 1905-1914