A Tonyrefail boy, Billy Griffiths first played for the club as a nineteen-year-old centre, against Cheltenham on 26th January 1957. By the end of the season he had moved to outside half, and played there in almost every game for Pontypridd for the next eight seasons.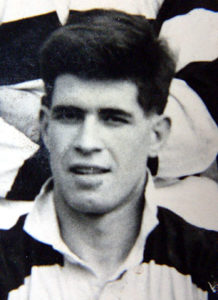 A classic Welsh style of outside half, Billy was a brilliant runner who could open up any defence he played against. His inside half partner for the first few seasons was another superb player, Brian 'Shrimp' Williams, and between them they made Pontypridd a strong force in Welsh club rugby.
Billy played 266 games between 1956 and 1964, and had been nominated as club captain for the 1964-65 season. However, during the previous season he had 'guested' for Bridgend on a number of occasions, and it came as a bombshell during the close season to hear that he had decided to join them instead. He then went on to have a successful career as a player with his new club, and eventually became an equally successful coach for Bridgend in the early 1970s.
In 1985 Billy returned to Pontypridd as coach for a two season stint.
Billy Griffiths: Centre/ Outside Half 266 appearances 1957-1964 / Coach 1985