Graham Gittins stands as one of the all time greats of Pontypridd RFC, having amassed a total of 444 games for the club in a career spanning fifteen seasons.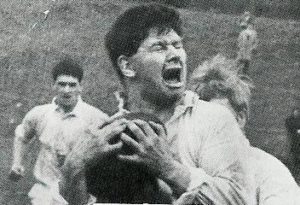 A member, and for two seasons captain, of the all-conquering team which achieved a run of Merit Table Championship victories in the early sixties, Graham was a tough as teak prop forward who scored 19 tries and also managed to kick six conversions and five penalties.
Graham's services to Pontypridd continued after retiring as a player, as a long-standing committeeman and a key member of the "Friends of Pontypridd".
Graham Gittins: Prop 444 appearances 1954-1969