Robert Davies came down to Pontypridd from his local club Ystrad Rhondda in 1984 and remained as a stalwart of the club over the following decade.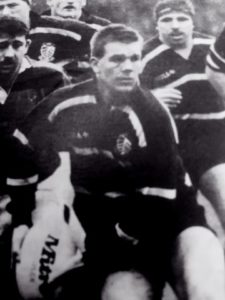 An abrasive scrum half, Davies was a handful for the opposing back row to contend with, often operating as an additional flanker for Ponty but also adept at getting his back line moving. He was a player who fitted in well with the style of play coached by the Jones brother, Clive and Chris towards the end of the eighties.
Davies was also a predatory try scorer, claiming 107 touch downs in his 237 appearances, and in the 1988-89 season scoring 15 tries in 15 games played.
Robert Davies: Scrum Half 237 appearances 1984-1994