Hailing from the Splott area of Cardiff, Leighton Davies represented his school, Cardiff High School, and went on to play for the HSOB team at senior level.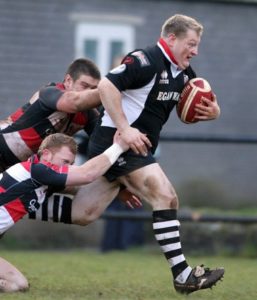 A move up to the old division one level of the Welsh leagues followed as Leighton transfered to Cross Keys, playing a part in the club's successful cup run to the semi final round of the competition, losing to Swansea at Sardis Road.
Making a name for himself as a physically imposing front rower, Leighton won honours with the Welsh Crawshays XV, and found the hard nosed rugby traditions of the Gwent Valleys to his liking, transfering from the Keys to near neighbours Newbridge in 2002. Leighton spent four seasons at the Welfare Ground before Newbridge were relegated at the end of the 2004 – 2005 season. Leighton Davies however maintained his status as a premiership player as he responded to an invitation to join up with Pontypridd in the summer of 2005.
Despite some tough competition for the hooker's berth at Pontypridd, Leighton made a huge impression during the club's successful league and cup campaign of 2006, and was voted jointly as Most Improved Player in the Supporters' Club awards night.
Leighton Davies departed Pontypridd in the summer of 2009, having been a stalwart of the club for many seasons, to join his hometown club of Cardiff.
Leighton Davies: Hooker 100 appearances 2005-2009