Glyn R. Davies from Cilfynydd was selected to play for Wales in the 1946 Victory International, alongside his Pontypridd half back partner Wynford Davies, whilst he was still attending the local grammar school.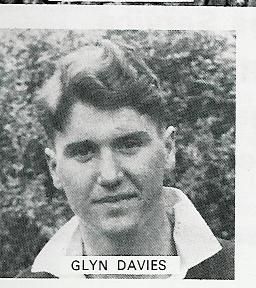 Glyn went on to win eleven caps for his country. He was recognised as a mercurial outside half, a beautiful runner with a devastating sidestep, and was nicknamed "El Supremo" by his adoring fans.
He went on to captain Cambridge University, and later played for Clifton, Bristol, Newport and Glamorgan Wanderers.
Glyn Davies died on the 7th of November 1976 in Bristol.
In a lasting tribute, writer Alun Richards said of Glyn Davies… "On his day – the Matador – His Excellency – El Supremo – the most graceful and elegant of them all".
Glyn Davies: Outside Half 16 appearances 1945-1953