Sven's rugby career began with his local club Machen, coming out of youth to captain their senior fifteen in the 1991 season. There followed brief, one year, spells with Cardiff and Glamorgan Wanderers before a move to Newport in 1994.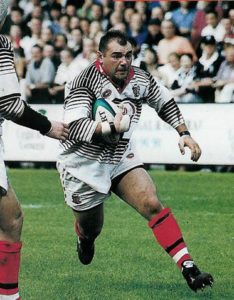 Anchoring the scrum for the Black and Ambers, Sven soon gained a huge reputation on the domestic first class circuit as one of the most formidable tight head props around going on to captain his club in the 1998 season.
As Newport moved into the realm of big spenders signing up international stars such as Peter Rogers and Adrian Garvey to their front row, Sven decided to move on in the summer of 1999, and with Ponty searching for an experienced prop to bolster their scrum – a mutually beneficial move was on.
Sven worked as a partner in his family construction firm and later went on to coach Newport.
Sven Cronk: Prop 68 appearances 1999-2003