Richie Collins began his rugby career with Cardiff district side St Albans, before moving on to play for Pontypridd, Newport, Cardiff, and – courtesy of his occupation – South Wales Police.
A senior Welsh international at both rugby and basketball, Richie's success was based on his high levels of physical fitness and ball handling skills. He made his Pontypridd debut in 1982, and rejoined the club for a second spell in 1993, becoming an integral member of the team.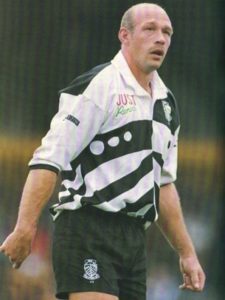 His international honours with Wales included tours of New Zealand in 1988, Australia in 1991, Canada in 1994, and two world cup campaigns.
Richie returned to Sardis Road for a brief spell as coach in 1999.
Richie Collins: Flanker 118 appearances 1982-1997 / Head Coach 1999