Beddau born Sean Bundy represented his local club until the age of 24, when he signed for Pontypridd. At 6'6″, Sean was primarily a second row but he was adapted into flanker and number 8, being an all rounder he was a good kicker at goal too.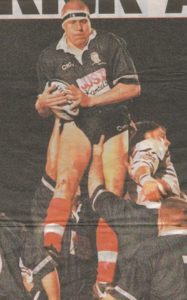 Sean was an apprentice at the Royal Mint and took an engineering degree at The University of Glamorgan, from where he graduated with honors. He then moved on to become an Aeronautical Engineer with Nordam Europe.
Due to job commitments he left Pontypridd in May 1998, but continued playing for Beddau during their rise to Division One in the leagues.
Sean then moved to Brisbane, Australia with his family.
Sean Bundy: Lock 18 appearances 1997-1998